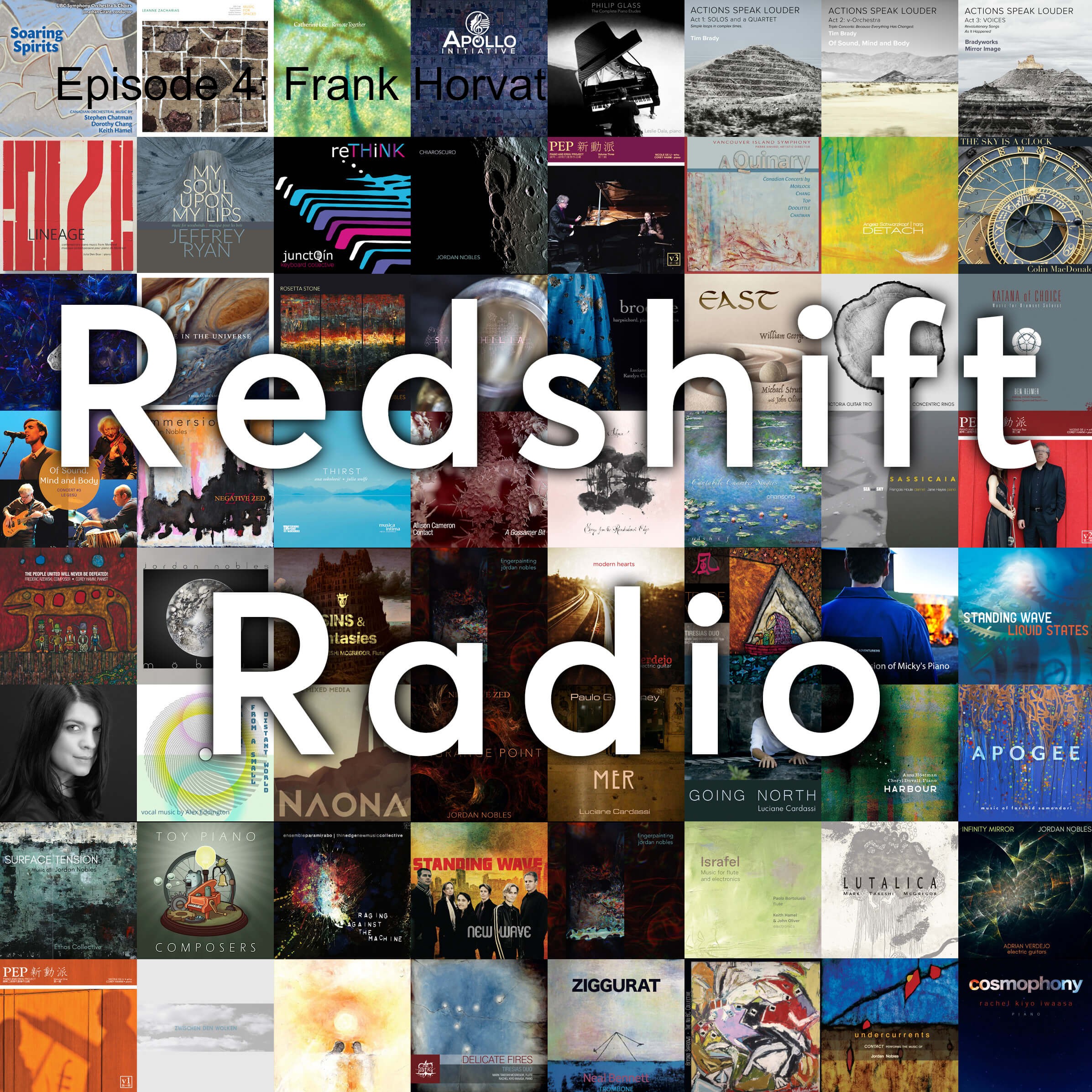 Adrian Verdejo talks with Toronto-based composer and pianist Frank Horvat about his musical upbringing, his introduction to composition at a young age, and recent recordings published since the start of the pandemic. Frank discusses major themes in his work including mental health, and the importance of human connection through music.
Frank Horvat is one of the most inventive songwriters to come out of the contemporary scene in Canada (WholeNote Magazine). This award-winning composer's music is emotional and intense. As a pianist and multi-genre composer, Frank Horvat has made the tricky musical leap that allows him to pursue a niche of his own (Edmonton Journal). Frank explores a wide array of themes in his music from love to the environment, mental health and social justice issues. Frank gives his audiences time and space to reflect in this fast-paced world. His compositions tell deeply personal stories while permitting audiences to ponder their own.
He has been featured on over a dozen albums on labels including ATMA Classique, Really Records, and Centrediscs. With composition premieres on four continents, his works have been showcased internationally in theatre, feature films, and radio/TV networks including the CBC, CBS, Discovery, HBO, Vice & Bravo. He has performed in a variety of venues and festivals worldwide including the Glenn Gould Studio, Massey Hall, Nuit Blanche, Music and Beyond Festival, Beaches Jazz Festival, NXNE, Gallery 345, NYC's St. Mark's Church-in-the-Bowery.
He ignores boundaries and isn't afraid to mix politics with art (Ludwig van Toronto) as many of his composition projects revolve around social issues. He has been a panelist at the ClassicalNEXT conference speaking on the topic of 'Artivism' and featured in UK's Classical Music Magazine podcast by Chris Gunness.
His environmental projects include the Green Keys Tour, and the social media campaign #music4HRDs and album, For Those Who Died Trying ("the resulting [musical] tributes are poignant" – BBC Music Magazine), that look at the stories of murdered environmental activists. Dozens of string quartets participated in this awareness campaign including: Juilliard, Merel, Mivos, Utrecht, and Zemlinsky Quartets as well as members from orchestras including the London Symphony.
His mental health projects include his Piano Therapy Concerts, and the social media campaign and album recorded at Roy Thomson Hall, Music for Self-Isolation. "It takes a special skill to be able to create a whole atmosphere in a work that is just 2 minutes long. I really liked that," Suzy Klein, BBC Radio 3. Over 150 soloists from around the world have participated online and on the album. Music for Self-Isolation was CBC In Concert's Record of the Week in April 2021.
Born in Ottawa, he now lives by the lake in Toronto with his wife/manager. Frank is an Associate Composer at the Canadian Music Centre, a member of the Canadian League of Composers, and the inaugural recipient of the Kathleen McMorrow Music Award for contemporary composition. His work has been supported by the Canada Council for the Arts, Ontario Arts Council, SOCAN Foundation, Toronto Arts Council and FACTOR. Discover Frank's latest projects at
http://www.frankhorvat.com.